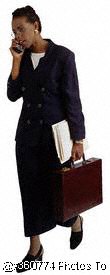 I am grateful for the confidence my mother had in me when she was alive, years ago I went and shared with her a plan to start a Janitorial/Cleaning Business, my father questioned me on how was I going to start a business with no money or experience in what he considered a man's occupation. My mother quickly contradicted him by saying "she can do anything she puts her mind to do." To this day, whenever I go to do something that may seem impossible or difficult, I remember her words and they strengthen my determination and resolve. I didn't allow the words that my father spoke to influence my decision, even though it made good sense. He didn't have or share my vision; he thought I should be content to do the things that are assigned to women, especially when it involved doing something that is normally done by men. Sometimes the things we desire to do, isn't normal but that doesn't mean you can't accomplish it.
Society is constantly changing, yet it is still difficult for some people to accept role changes or to envision a person doing something that they have no previous experience or educational training. Yet we have millionaires who achieve their success by working hard and having a strong determination to succeed, they believed in themselves and didn't allow anyone or anything to deter them from their goals. On reality television programs, we see everyday people who have turned their lives around and made a name for themselves, singers who were once unknown have been acclaimed and received awards and recognition because they believed they had something special to offer and set out to do it. People have left good jobs and steady employment to pursue doing something that they love, and many have become successful actors, actresses, dancers, comedians, writers, singers, politicians, motivational speakers, preachers and business entrepreneurs.
Set the standard high, hold your head up and don't be ashamed of whom you are, or the things that you want to do in life. (Habakkuk 2:2) And the LORD answered me, and said, Write the vision, and make it plain upon tables, that he may run that readeth it.

(Habakkuk 2:3) For the vision is yet for an appointed time, but at the end it shall speak, and not lie: though it tarry, wait for it; because it will surely come, it will not tarry. If you don't believe in yourself, who will? Have patience, trust in God and continue to work towards the goals that you set for yourself. Remind yourself of what it is that you want, envision yourself doing it and set your standards high to accomplish it. (Luke 18:27) And he said, The things which are impossible with men are possible with God.

Written By

Apostle Loretta Williams

Editor in Chief

To contact us:
Office Phone: 773.683.5540 Please leave a brief message on our Voice Mail if we are unavailable or after business hours, a staff member will return you call asap.
Business Hours Monday - Friday 10:00 a.m. to 4:00 p.m. CST.
OWC CORPORATE SOUTHWEST HEADQUARTERS MAILING ADDRESS:
Oasis Worship Center
6565 N. MacArthur Blvd. Suite 225
Irving, TX. 75039