OASIS INTERDENOMINATIONAL MINISTRIES FELLOWSHIP
Apostle Loretta Williams, Presiding Prelate
The Official Scripture Motto for OIMF World Wide is:
Affirmation of Faith, based on the Holy Scripture in the New Testament 1 Cor. 12:12 "For as the body is one, and hath many members, and all the members of that one body, being many, are one body: so also is Christ."
We are a Church without Walls,
An Inter-Faith, Interdenominational Ministries
Presiding Prelate
Apostle Loretta Williams
Oasis International Ministries is a fellowship of churches and ministries world wide through OIMF.
1. Goal: To introduce by association those who are willing to collaborate and net-work with others internationally, by uniting those leaders within the body of Christ.
2. Focus: is to strengthen those in leadership, through mentoring and leadership training in preparation of fulfilling the divine call of world wide ministry.
3. Purpose: One Lord, One Faith, One Baptism. We are One.
Oasis Interdenominational Ministries Fellowship (OIMF) is designed for Senior Pastors, Bishops, Overseers, Prophets/Prophetess, Apostles, and Evangelists those who are the CEO and Founders of their own ministries. It is a Interfaith Fellowship of different denominational ministries and those in leadership. Our Mission is to bring Unity to the Body of Christ. We are a Church without walls, A Ministry with a global perspective. Equipping Today's Leaders to become future Generals. To further develop spiritual growth and maturity within the Body of Christ as a whole. To provide Leadership Training and Ministerial Support to those who serve in the broad spectrum of Christian Ministries, Internationally and Globally.
A REPORT FROM NORTHERN PAKISTAN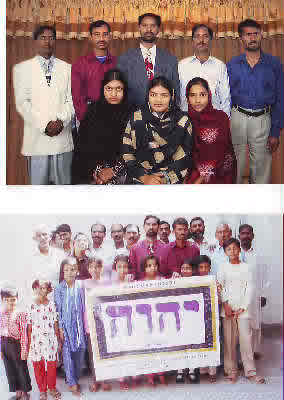 Christ Mandate Ministries is a multi-cultural ministry in the heart of Pakistan.
We desire to help and encourage those in extreme poverty in our rural and community areas and assist the smaller churches and ministries through our Outreach Projects. We have become Candidates for Membership with Oasis Interdenominational Ministries Fellowship, so we can network with others to equip us and teach us how to accomplish our Ministries goals in serving the people of our community. We request your prayers and financial support. Please help us with the salvation and deliverance of our people in Pakistan through Evangelism and Mission Projects through our Churches and Ministries.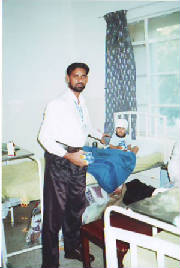 Latest News from Pakistan (August 2010)


I hope you seen the Pakistani channels and seen news about the flood,
I would humbly request to you that please help our Pakistan brothers and Sisters in flood,

( Note- My family also effected with flood, please help my family emergency needs due to the flood waters).

I am writing to you some detail, the full detail visit on Pakistan Channels or Satellite News Broadcast.

Jafer Abad , Dera Ghazi Khan : 20 Thousand Families effected by flood.

Char Sadda 20 Villages: are destroyed from the earth, and peoples have not shelter for live.

Province Baluchistan 15 Villages & Towns: destroyed from the earth, 75 thousand peoples effected.

Muzfer Gharr Railway Colony:10 thousand peoples homeless

Kushmor: Thousands of peoples homeless and living with no shelter and necessities.

Sukher: covered with super flood , peoples have no thing to eat.

Jamshuru: 6 towns destroyed from the earth.

Noshera, Ghuspura, Jam pura Kher pure Panu aqal: hundreds of homes destroyed and/or flowing in the flood waters.

Mienwali: covered in super high flood.
Chacherr: covered with high flood.

Mehmud Kot, Rahim Yar Khan: has been completely destroyed and peoples have no place to go or personal items for daily living.

Province Sindh ares Shikar pur: 19 Districts are completely effected and destroyed.

Rojhan , rahim Abad, Bhong, Rakh Shaah wali, Manghat, Sijawal, meru Khan, Kundh kot, Dera Ismail khan: are completely effected, 32 thousands are in without homes, shelters, food and supplies for daily living.

MUZAFFARGARH: Flood warning has been issued in Muzaffargarh District after the water level in Ring Pur canal reached a dangerous level, Geo News reported.

The residents have been asked to leave the area. Adequate transport facilities were not available making the evacuation more difficult where 400000 people were waiting to move.

I (Rev. Ayub Sagar) would humbly requested all those who are able to please financially assist to help support our peoples in Pakistan, we (the pastors, mission workers) want to go to these areas nearest our homes and communities to bring them daily living necessities some of which we can purchase with funds donated by your charitable giving to this organization (Oasis Worship Center Interdenominational Ministries Fellowship USA) our President and Chief Apostle is working there for helping the Pakistan peoples.
We need these items in large quantities to be purchased or shipped in the coming months:

Medicines, Personal Hygiene Products, Baby Diapers, Blankets, Sleeping Bags, Pure Drinking Water, Food, Milk, Tea, Sugar, Children & Adult Clothing for flood victims.

I know you can't help with all, but I request to all of you that please do as you can do, I will be grateful to you in the name of Jesus Christ for helping us in difficult time of flood.

Waiting with hopefully response from you very soon.

In Jesus

Rev Ayub M Sagar
Founder/President& Director
Christ Mandate Ministries
OIMF Northern Pakistan
Rev. & Mrs. Ayub Sagar
Christ Mandate Ministries
DONATIONS FOR PAKISTAN:
These are difficult times that we are living in, much is taking place in the world today even in the United States of America. However this isn't the time to stop trusting God or giving to help those less fortunate than ourselves. No matter what is happening, there is always hope that tomorrow will be a better and brighter day. So, I want to encourage everyone to do all you can, when you can because we never know what tomorrow will bring. For this reason, we are asking everyone, including businesses, churches, ministries, patrons and private sponsors to share a portion of your blessing with those who are less fortunate. In the United States even the homeless have shelters and food pantries that are available and open to assist the less fortunate. However many people in rural areas and villages, especially women and young children in foreign Nations and Countries, the resources and employment is not available within their communities. The people are daily experiencing starvation, depravation, sickness and poor health without some form of assistance and/or charitable contribution from World Wide Missions and Foundations.
Oasis Worship Center Interdenominational Ministries Fellowship, is based in the United States of America with Ministry Headquarters in Irving, TX, and Executive Office in Chicago, IL. We are a Non-Profit Charitable and Religious Organization. We also have International Jurisdictions in other foreign countries including Northern Pakistan. Rev. Ayub Sagar membership with OIMF Pakistan since 2009 and the Overseer of Christ Mandate Ministries which has 94 church branches and another 375 churches and ministries that they are in fellowship and network in Pakistan.
Due to the recent flooding and devastation that has taken place in Pakistan, we are asking those who will to give a donation for Missions to Apostle Loretta Williams via check, money order, cash or online on the Oasis World Wide News Publication via the Pay Pal Donation Link on the OIMF Pakistan Section. You can read the report from Rev. Ayub Sagar and view photos of the work that he is doing in Pakistan www.oasisnewspublication.com All donations received will be sent to Pakistan no monies will be kept other than the bank fees & wire transfer charges.
Those who can, please assist our organization with the cost of additional baggage & shipping via Air Mail of clothes, hygiene and daily needs products, such as soap, diapers, hair care products, toothpaste, toothbrushes, bath and body oils, and miscellaneous items. We have been petitioned for funds to purchase 50lb to 100lb bags of rice and other food and produce items to be distributed to the poor, families who have lost their homes and children's orphanages. Donations will be given will enable them to purchase and distribute these necessary food items and supplies in their communities and villages.
Would you or your organization assist us by asking your employees, church members or associates to donate towards this worthy cause?
This is a tremendous blessing, however shipping is very expensive from the USA to Pakistan to send FED EX by air to arrive within 7-10 days is approximately $125 per box .
We also accept cash and will give you a receipt, and you can pay with Credit/Debit Card, Electronic Checking or Savings Account on our Web Site at www.oasisnewspublication.com the Pay Pal Logo Donation or Visa/Master Card symbol. Pay Pal will issue you a receipt upon completion of your transaction and notify us of your donation.
Our Mission Statement is "To Bring Unity to the Body of Christ."
OASIS WORSHIP CENTER HEADQUARTERS (OWC) for
OIMF/OMF MINISTRY WORLD WIDE
Southwest Headquarters Texas: FAITH DISTRICT
North West Headquarters Illinois: LOVE DISTRICT